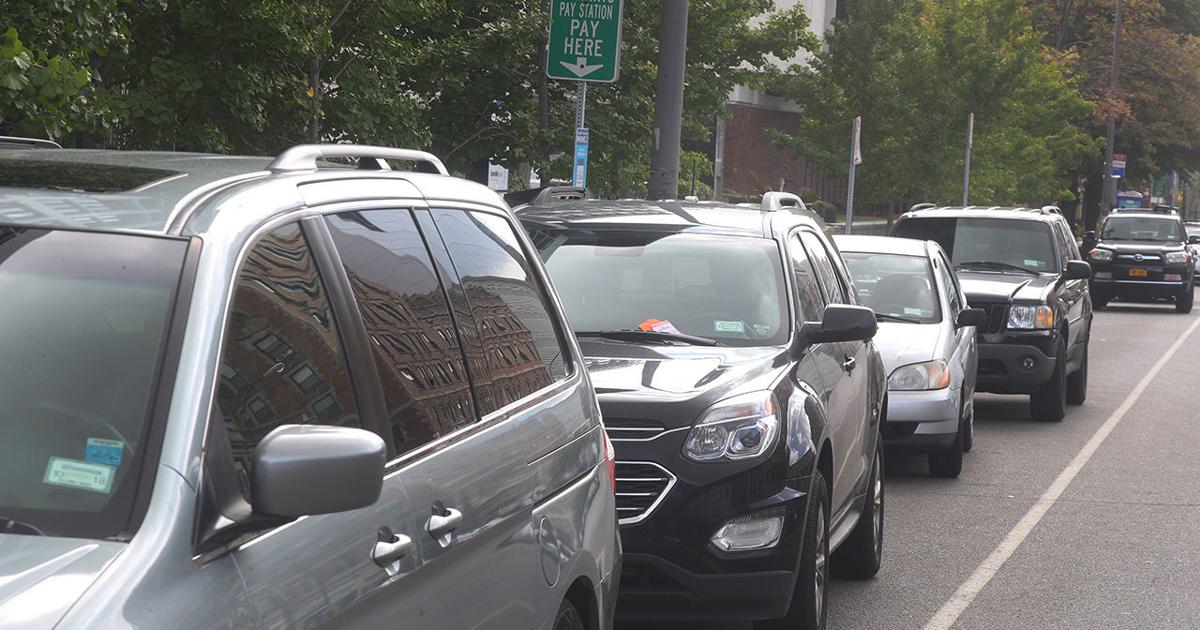 By Jonathan D. Epstein

The development of the city center has raised a new concern: could parking spaces in the city become even more elusive?
Although still common in Buffalo, open parking spaces are becoming increasingly difficult to find. The overall supply of space hasn't changed much, but the downtown population has grown by 70% in the past 20 years and the workforce there has grown by 30%. This does not include customers attracted to new hotels, restaurants and events.
Meanwhile, entire lots are beginning to disappear under the pressure of diggers, as developers eye real estate for new projects. City officials, developers and experts consider this growth to be good for the city.
But it raised this question: Is downtown Buffalo running out of parking or has too much surface land?
A Buffalo News report last month noted that 11 new buildings have been erected in downtown parking lots over the past 10 years. With surface land still making up 13% of total downtown land, developers, planners and community leaders are discussing ways to address parking and transportation in the future.
For some, this means encouraging new developments to better integrate parking. For others, it means moving away from cheap parking options to encourage people to use public transport.
And because parking lots are the weakest use for vacant land that can otherwise accommodate apartments, offices, shops and restaurants, city leaders are encouraging development, after years of dreaming about it.
"I think we all realize that parking, especially surface parking, is only a temporary use, and there's always a better use, which is, of course, development," Richard said. Serra, CEO of Allpro, a private parking operator that is partly owned by promoter Paul Ciminelli. "We'd rather see things go up than see cars on open space."
The city's existing parking ramps—some with artificially low city-subsidized rates—are considered inadequate for today's needs. And the projected loss of surface lots to development, without sufficient replacement, raises concerns that parking will become harder to find – and more expensive.
"The Central Business District has a parking problem right now. In many ways, it's a nice problem to have, but it's also a horrible problem to have," said developer Jake Schneider.
The shortage slows down the activity
As downtown construction projects continue, some developers are even warning of an anticipated mismatch of supply and demand that could eventually create a gap of more than 1,100 spaces.
In turn, that could hamper apartment and office rental efforts, or keep customers from getting to shops and restaurants, landlords and businesses say.
"It's going to affect downtown businesses," said Rocco Termini, owner of Signature Development Buffalo. "You're not going to rent space in nearby office buildings because there's no parking."
This is already happening to some extent. Keith Belanger, chairman of the board of directors of Buffalo Place and senior vice president of M&T Bank Corp., said the Buffalo-based bank wanted to create more jobs downtown, but struggled to find a location suitable with sufficient parking spaces nearby.
"We are currently looking at options for some growth," he said. "That's a huge, huge consideration."
And Schneider, who owns three downtown apartment projects and also owns retail space, says he's struggling to rent units without parking.
"We are always faced with the question 'Where do we park?' " he said. "Any commercial space that we have that is vacant is partially vacant due to the fact that parking is an issue."
There are 22,840 publicly accessible parking spaces in downtown Buffalo — paid and unpaid, according to data from Buffalo Place, the nonprofit group that promotes the central business district.
However, many of these spaces are on the outskirts of downtown, such as near the KeyBank Center and the Cobblestone District, and not in the heart of the business district.
"There is parking available, but not exactly where you would like it," said Samuel F. Iraci Jr., executive director of Buffalo Civic Auto Ramps, the nonprofit that manages the ramps and land owned by in the city.
At the same time, the downtown workforce is growing again. According to a Buffalo Place report, there are 1,100 companies employing some 58,000 workers, up from 44,000 two decades ago. There are also more than 8,300 residents living downtown in 2,910 waterfront condominiums, loft or traditional apartments, and even some single-family homes – up from 1,695 residential units before 2000.
And there are 60 bars and restaurants, 50 stores, eight theaters, a cinema, architectural sites, Canalside, HarborCenter and KeyBank Center, not to mention the expansion of the Buffalo Niagara Medical Campus immediately to the north.
"We're at capacity downtown," said Debra Chernoff, planning manager for Buffalo Place, which tracks parking availability downtown and is looking at ways to make more parking available.
Public spaces are disappearing
Developers are also concerned that two major ramps that are now publicly owned and charge below-market rates will transition to private ownership – with higher rates – within the next two years. The 1,029-seat Main Place ramp, which is city-owned and operated by Buffalo Civic Auto Ramps, will revert in July 2019 to Patrick Hotung's Main Place Liberty Group. The 457-seat ramp on Washington Street connected by skybridge to One Seneca Tower will go to tower owner Douglas Jemal in 2021.
Ciminelli Real Estate Corp., as the designated developer for the city-owned parking lot at 201 Ellicott Street, also plans to construct a mixed-use building with an urban grocery store and 200 apartments.
Ciminelli's Downtown Grocery, Skyscraper Goes Ahead
"I've been screaming about this for years. There's been no replacement of the municipal parking lot and no forward thinking," said Carl Paladino, president of Ellicott Development Co. "We're in big trouble."
It's the loss of this Ellicott-Oak lot that's really concerning.
Ciminelli's plan originally included an 800-space parking ramp that would have replaced the 375-space lot and doubled its capacity.
The long-delayed project has since been scaled back and the new version announced late last month – developed in conjunction with the city – now only includes sufficient parking for the store's needs.
This means no integrated spaces for the 200 new tenants. Instead, city officials and Ciminelli executives said residents will be encouraged to use public transit, carpooling, bicycles and other means of travel.
"There are plenty of spaces available if they are willing to seek it out, walk longer or jump on the public train to get to their office," Serra said.
Adding to the pressure, the former AM&A department store on Main Street is set to open in 2020 as a 300-room Wyndham hotel with two restaurants. Iskalo Development Corp. also buys, renovates and leases buildings around its electric tower, including the Old Editions bookstore on Huron Street and Arc Erie County at 101 Oak St.
Mayor Byron W. Brown said the city is working on alternative short-term ideas that will be unveiled shortly.
"We want to make smart decisions," Brown said. "We don't want to have parking assets in five years, 10 years that we've bonded for that aren't needed during that time."
A temporary problem?
No one is proposing to pave more land for parking lots. But some people ask for more ramps.
Several recent construction projects already include indoor parking, including HarborCenter, Ellicott Development's 500 Pearl St., and Ciminelli Real Estate Corp's Conventus building.
"You've seen a lot more private development happening in the last 10 to 15 years, with developers realizing they have to meet their own parking needs," said hotel developer Mark Croce, whose own recent proposal for a new convention center comprised 500 structured spaces.
The Buffalo Niagara Medical Campus replaced its 900-space Ellicott-Goodrich garage with a ramp that doubled its capacity. Several developers are suggesting that the city's 629-seat Mohawk Ramp be rebuilt. And Termini urged Ciminelli to "go back to the drawing board" to restore a ramp to his project at 201 Ellicott St.
But Paul Ciminelli said the city made the decision to scrap the ramp from the project due to cost, and he was not looking forward to a restart that would further push the project back.
Structured parking is also very expensive to build, at around $25,000 per space, according to Buffalo Civic Auto Ramps' Iraci. And city planners generally discourage the building of new ramps, citing trends toward alternative transportation in the future.
Chippewa is ground zero for the Buffalo Parking Police
"It is in no one's interest to consider building parking facilities, knowing that the need for parking spaces will diminish over time," Serra said. "You only build it out of the need that there is definitely a shortfall."
Discourage driving
Developers and city officials are touting the national trend toward "transit-oriented development," in which new projects are built around bus and rail lines. The aim is to discourage car use, reduce traffic, reduce vehicle emissions and encourage walking.
That was the goal of Buffalo's new green code, the zoning and land use document that guides the city's development. It's also a big move at the Buffalo Niagara Medical Campus, where the number of staff far exceeds the number of available parking spaces.
There's also more effort to support bikes, with dedicated lanes, and carpooling has been hailed as another option.
Advocates say the city, Erie County and Buffalo Civic Auto Ramps must encourage this change.
"The biggest deterrent for people using public transit is access to inexpensive or available parking," said Douglas Funke, president of Citizens for Regional Transit, who wants the city and county to increase parking. public transport expenditures to extend the metro and increase the frequency of buses. "Get rid of the parking lot and people get out of their cars."